We are now extending our ad-hoc pick up service to all our Toy Outpost & HAKO outlets.
This service allows your customers to  pick up their pre-paid items from your website without you having to conduct meet-ups or physical postage of your products. No mrt meetups or failing to conduct a sale with different preference of  timing and meetup locations!
Why pick up @ orchardgateway?
• Enjoy greater convenience as a seller than ever
• Your customers have 5 days to pick up their pre-paid item
• Items safely stowed in our lockers
• At just $2 per collection, there's no better reason to not use us a pick up location!
Charges
The dimensions of your parcel should not exceed the 2 sizes of our package bags provided
See dimensions and price as follows:
• 22cm (width) x 25cm (Height) x 6cm ( max depth) – $2 per package
• 28 cm (width) x 38 cm (Height) x 12 cm ( max depth) – $5 per package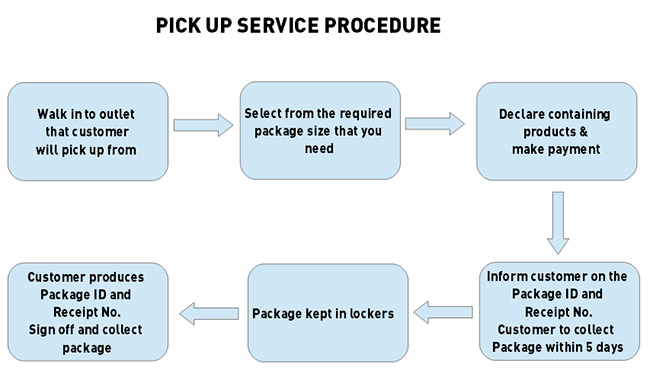 Pick Up Service @ orchardgateway
Customers who have regular volume and would like to store their pre-ordered items for their customers will have to sign up for our pick up service @ orchardgateway.
You will first have to sign up as a merchant with us and first book a locker at #B2-01 Toy Outpost @ orchardgateway.
Charges
The lowest priced lockers starts from $70 per month and each pick up transaction will cost just $2. The minimum monthly rental of $70 will allow you to conduct 35 pick-up transactions. Subsequent collection will cost $2 as well.
Why pick up @ orchardgateway?
• Enjoy more storage space , place larger items in our lockers
• No 5 days restriction ! Store your items as long as you need